Setting Dynamic Remarketing Campaigns with Marketing Automation
This is absolutely revolutionary for B2B marketing. This combines two budding technologies (remarketing and marketing automation) to create hybrid marketing tactics that will prove incredible results. This combines the effectiveness of multi-channel campaigns with the effectiveness of personalized campaigns. The right content at the right time, through multiple channels. Expanding your personalized lead nurturing beyond just your email.
Marketing automation platforms can produce server-side dynamic content based on a person's activity and information in your marketing automation platform's database. THINK ABOUT THIS.
I keep on hinting to everyone… but marketing automation platforms can produce server-side dynamic content based on lead data. (!!!)
— Edward Unthank (@EdwardUnthank) March 16, 2014
Do you see it yet?
You can craft your remarketing targeting as precisely as you have the intelligence to create it, and not on a loose proxy of URL visits.
How will this make an impact, immediately?
You can cut your cost per qualified lead enormously by ONLY targeting demographically qualified leads. Look at your waterfall and lead velocity. Let's do some math here:

Let's say your cost per conversion in a campaign is $50. That's all people, demographically qualified and not.
Let's say half of those conversions are demographically qualified. That means your cost per qualified lead is actually $100.
Using server-side dynamic content, you can plant the remarketing visit with special criteria: only set remarketing campaign if the Lead's Status is Marketing Qualified Lead.

You can use multi-channel, personalized campaigns—not just on your website and email.

We all know the effectiveness of multi-channel marketing campaigns. You see the same ad on a billboard, then another billboard, and on a bus driving by. Top-of-mind!
Personalized campaigns are proven to be more effective. You tailor the content to the right person and deliver it at the right time.
Integrating marketing automation with remarketing means you can have multi-channel campaigns that are personalized. You can serve the right content at the right time across more than just your website and your emails—the web, Facebook, and Twitter (and LinkedIn if they ever pick up their game).

You can expand your intelligent lead nurture channels into social and the web.

I'm not talking about your company's daily tweets or Facebook posts that everyone sees. I'm talking about prescriptively showing content that is right for a lead and guides the lead down the funnel, through more than just emails and your website.
Ever have one-and-done downloaders of content? You can bring them back by reaching out to the channels they use. They just wanted your content, now it's time to remind them that the content they downloaded is produced by your company's leadership.
Assigning Multi-Channel Retargeting Campaigns in Marketo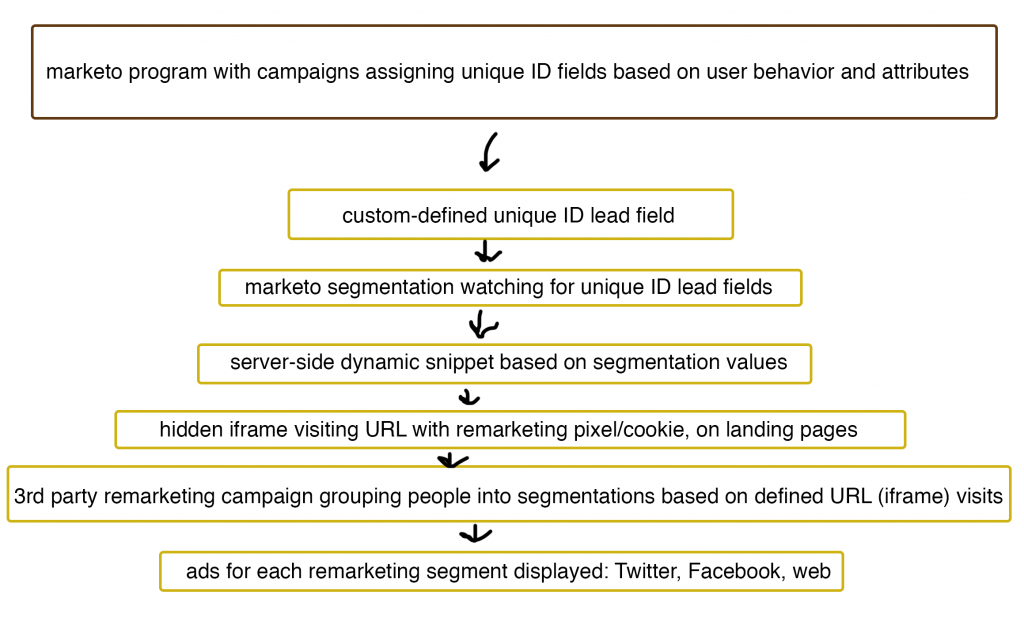 Let's walk through this.
You have a Marketo program that dynamically assigns the (new, custom-created) Unique ID lead field for your remarketing campaign.
You create a Segmentation in Marketo with cascading logic, grouping the Unique ID leads into their own segments.
You create a dynamic snippet with dynamic content based on this new Segmentation you made. This is the HTML that goes into the landing page, and each one is a separate iFrame that triggers a visit to a unique URL with the remarketing pixel/cookie (a page that is entirely hidden from the rest of the web, so the only way people can visit it is through this iFrame).
Your remarketing service (e.g., AdRoll) sees the lead visits that hidden URL. You have your own segmentations in your remarketing service based on visits to those hidden URLs.
You create ads for those segmentations—Twitter promoted posts, Facebook ads, Facebook promoted posts, and web remarketing. You turn them on.
B2B Remarketing Limitations, as of now:
Each remarketing platform segmentation needs to pass a certain threshold of cookied visitors (i.e., visitors within the last 90 days) before the remarketing campaign is enabled. This is actually the big one for B2B, because of the smaller amount of visitors.
This means that audience size is the limiting factor in remarketing granularity. We've been working with AdRoll for our remarketing, as they've given us (and our clients) access to Twitter Tailored Audiences while it's still in Beta. Unfortunately, the minimum threshold for AdRoll (as a company policy) is 1,000 people per campaign segment. (Native Google remarketing has a threshold of 100 people per campaign segment.)
So that means the question is surrounding how many active, cookied leads you have visiting your website every 90 days. If you have enough, you could actually use first-name personalization in tweets—you can trigger visits to "remarketing/first-name-edward.html," create the campaigns all talking to "Edward," and only show the ads to the people in that specific segment.
The more targeted and specific your campaigns are, the more effective they will be. Here are some options, based on your audience size:
Biggest grouping: All marketing qualified leads
More granular and effective: Campaigns based on buyer stage score (and MQL)
Even more granular/effective: Campaigns based on the next suggested resource (and buyer stage and MQL)
Silly amount of granularity: First name campaigns (and MQL)
Categories